Dear Valued Clients,
As Black Car Limousine Services prepares for the re-opening of the City of Toronto and Ontario, we wanted to update our clients on what we are doing to prevent the COVID-19 infection from spreading further, assisting in flattening the curve and getting us all eventually back to our regular day to day lives.
Black Car Limousine is open for business and available for your traveling needs as they safely get to be reinstated and other requirements, from parcel pickup and delivery to trips to the doctors or offices, and many others.
We have made a few changes to our operations to ensure the safety of both you, our guest, and the drivers that all while providing a smooth and exceptional service.
All drivers are required to wear mask and gloves.
All passengers are required to wear a mask and use the available hand sanitizer within, as soon as you enter the vehicle. Passengers will be required to wear a mask at all times while inside the vehicle. If a passenger does not have a mask, one may be provided by the driver.
We must ensure the safety of our drivers and passengers at all times, and the masks help reduce germs being spread throughout the vehicle.
The following vehicle capacity guidelines will be implemented for social distancing, until further notice:
Sedan (4 seats) – up to two (2) people per household only.
SUV (6 seats) – up to five (5) people per household only.
VAN (14 seats) – up to ten (10) people per household only.
Bus (24 seats) – up to fifteen (15) people per household only.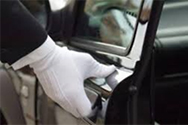 Our drivers are instructed to use masks as well as gloves to handle the luggage and open doors so that passenger's contact with surfaces are kept to a minimum.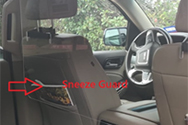 Sneeze guards are installed in some of the vehicles for extra protection for both the drivers and passengers.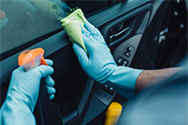 A thorough cleaning of each vehicle's interior surfaces with approved disinfectant wipes is conducted following each ride.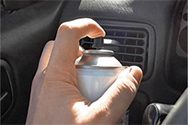 Although the air is being brought from the outside and filtered, a Sanitizer is applied daily to the vehicle's air vents to clean the air being circulated inside the vehicle and to assist in the elimination of any germs and bacteria.
Furthermore, we have instructed all drivers to seek medical attention immediately if they feel unwell and we will not allow sick drivers to report for work under any circumstances.
You may notice some additional changes to your regular service as a result of these precautions, such as the cessation of candy, mints, water or beverage offerings, and the limiting of all physical material sharing between passengers and drivers wherever possible.
**Please note that during this time, the drivers, for their protection, will ONLY be handling large suitcases/luggage if deemed necessary or assistance is required. Handbags, laptop bags, carry-ons and the like, will be handled by the passenger.**
We look forward to seeing all of our clients in good health and out of isolation, and we are also thankful for everyone's cooperation during this phased re-opening of Toronto and Ontario.
Your understanding is greatly appreciated, and we are dedicated to continuing to provide you with the highest level of service that you have come to expect.
We wish you the best of health and look forward to serving you again soon!
The health and safety of our passengers, partners and employees is, and will always be, our top priority.